Product Description
Sourced from Austria
Sunflower seeds have been touted for their benefits for a while now. The protein content contains all the essential amino acids and a balanced ratio of omega fatty acids as well. It's the perfect allergen-friendly, vegan supplement to help speed up recovery time, promote strength and replenish your body after a workout. They are very high in fibre and contain significant quantities of various B vitamins and vitamin E. Add to that the healthy quantities of manganese, magnesium and phosphorous and even some good amounts of iron and zinc.
Ingredients: Organic Sunflower Seeds Protein Powder (Made from 100% Sunflower Seeds)
Shelf life: Approximately 12-36 months.
Health Benefits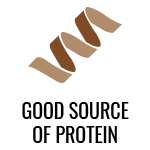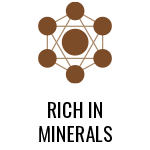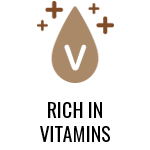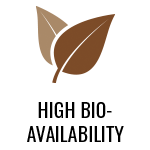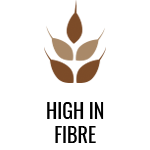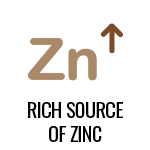 How To Take
| | |
| --- | --- |
| HAVE IT LIKE A BOSS | Stir one serving of Organicule Sunflower protein powder in a glass of water or your favourite beverage. It is amazing if you are trying to increase your protein intake. It is very popular as a post workout drink as well. |
| SUPER CHARGE | You can simply blend a serving of Organicule Sunflower protein powder in your favourite smoothie or energy shake. |
| GET CREATIVE | Get adventurous with our Sunflower protein powder by creating your own drink or dish. Don't forget to share your recipe with us and get featured on our page. |
Nutrition Info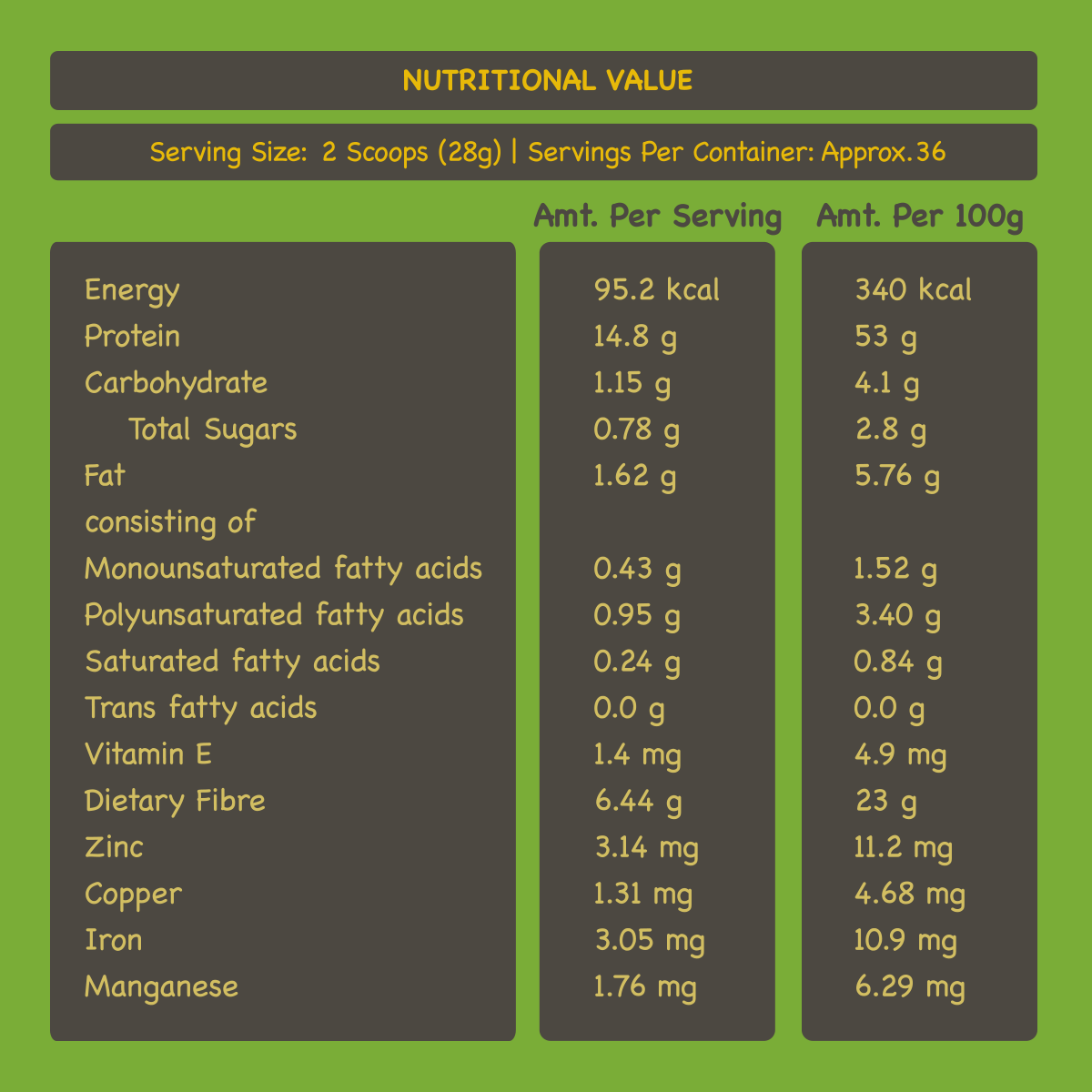 Certifications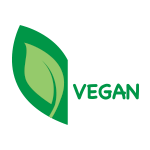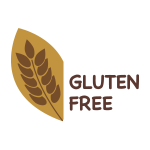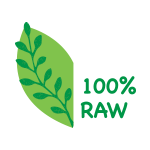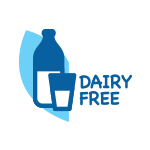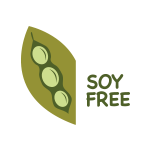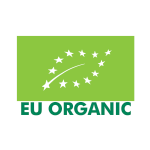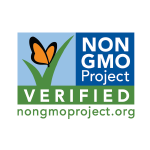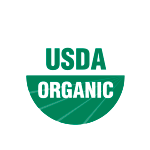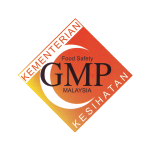 FAQ
1. Why Organicule Sunflower Protein?
Our Organic Sunflower seeds protein powder is made from certified organic sunflower seeds using an age-old cold-pressing process to naturally concentrate their protein by removing some of the seeds' oil, all while maintaining nutritional integrity. Once partially defatted, we carefully mill them into a fine powder.
2. When To Take Organicule Sunflower Protein?
You can consume Sunflower Protein anytime you like. Having it in the morning helps you with the energy you need throughout the day. It also helps you feel full longer and reduce sugar cravings. Due to the high protein content in sunflower protein, you can also use it as a pre and post-workout. Most users use Sunflower protein to replace their current protein powders that are used for workout. Unlike other protein powders, our sunflower protein is 100% natural, no artificial flavouring, no synthetics, no fillers, dairy free, soy free and full of awesomeness!!. It can also be used before sleeping to help give a steady release of protein through the night.
3. What Are The Health Benefits Of Sunflower Protein?
a) Supports muscle growth
Sunflower seed protein is fantastic for supporting muscle growth. In part due to its branched chain amino acid (BCAA) content, sunflower seed protein supports muscle growth and recovery – especially after a workout. Branched chain amino acids – leucine, isoleucine, and valine – have been shown to likely increase muscle protein synthesis after resistance exercise. In addition to the BCAAs, sunflower seed protein also contains magnesium, an essential nutrient for muscle recovery and proper muscle functioning. Sunflower protein powder can be a great protein option on-the-go to help meet daily protein needs.

b) Sunflower protein powder can improve skin health.
Did you know that a protein powder can do more than simply provide protein? Sunflower protein powder can improve the appearance and health of your skin, too. Sunflower seeds are high in vitamin E, which is a fat-soluble vitamin that acts as an antioxidant. Antioxidants, found in foods and supplements, protect our cells – such as skin cells – from damage. In fact, sunscreens often contain vitamin E because of the vitamin's ability to protect the skin from damage from UV light.
In addition to vitamin E, sunflower seed protein also contains zinc, which is an important mineral for our skin. Zinc helps reduce inflammation, which can be helpful for reducing acne and scarring.

c) May reduce cholesterol and improve heart health
Thanks to sunflower's phytosterol content, consuming sunflower seeds or sunflower powder can help reduce cholesterol levels. Phytosterols are substances found in plants that have been shown to reduce LDL (bad) cholesterol, which is a risk factor for heart disease. In fact, studies show that consuming 2 grams of phytosterols per day is associated with a 10% reduction in LDL cholesterol.
In addition to the phytosterols, sunflower seeds are rich in polyunsaturated and monounsaturated fats that help to reduce inflammation, which in itself can be a risk factor for heart disease.

d) Suitable for most diets
Since sunflower powder is made from just ground sunflower seeds – and nothing else – it's suitable for people with dietary sensitivities and allergies. Sunflower seeds are a rare source of allergy, making them a great alternative to nut based protein sources. What's more, sunflower powder is 100% gluten free, so it's a good option for those with celiac disease or non-celiac gluten sensitivities.

4. Why Should I Try Sunflower Protein Over Whey ?

Whey protein is not a natural product, and does not promote a sustainable industry. Whey protein may have some benefits, but only if used in moderation. Consuming too much whey protein could put extra strain on kidneys as well as increase body fat.

Sunflower Protein on the other hand is all natural plant protein that has a higher rate of digestibility, thereby allowing the body to use it more efficiently. Not only that but Sunflower protein has lots of vitamins and minerals to make it a more wholesome protein to take. Unlike whey, our Sunflower protein is made only from the seeds, and there are no other added processed ingredients, fillers, binders or artificial flavours.
5. How To Use Sunflower Seed Protein ?

It's great that sunflower seed protein powder has a mild flavour, allowing it to be easily added to a variety of food and drinks. You can easily add sunflower seed protein powder to smoothies, shakes, oatmeal, baked goods, and more.
6. Is Sunflower A Complete Protein?
Similar to other seeds, sunflower seeds are low in the amino acid lysine. To ensure you are consuming a complete protein-one with adequate amounts of all 9 essential amino acids-it's best to combine sunflower protein powder with other lysine-containing foods. For example, quinoa, pumpkin seeds, beans, and soy milk contain lysine. You might consider adding pumpkin seeds to your protein shake or using soy milk as the base of your smoothie to ensure the protein you are consuming is complete.

But, why are complete proteins important?
Complete proteins are necessary to carry out the functions of muscle repair, muscle growth, and essentially every protein-requiring body function. If one or more amino acids is missing from our diet, our body's ability to perform optimally is impaired.